Kids, in the lead up to Women's Day 2018, I matched with a visiting American tour guide, Mike*, on Tinder.
After a brief hello, how are yous , how's your day going and a "Your gorgeous" (I'd over looked his atrocious spelling when I really shouldn't have!) compliment, Mike asked me out for drinks and dancing the following evening.
Since I was already going to be at the Station on Bree for a night out with your Aunties Cynthia and Gloria, I told Mike he was welcome to join me there.
The next night…
Wednesday evening, whilst sipping on an Elizabeth Daiquiri , I waited for Mike to arrive.
A tall, hot guy walked in and started searching around the bar. I gulped a few times, slid down in my seat and tried to hide.
There was NO way I could have a blind date as it was with this Adonis! I swung from desperately wanting him to be Mike to not wanting it to be him because I, for sure, would be awkward AF if he was.
Gods, help me:
The McHottie turned out be the DJ…  and Mike turned out to be the back-to-front baseball cap-wearing, earring stud-wielding, crazy pattened shirt-donning guy behind him.
I masked my disappointment to say hello with a handshake, while Mike leaned in for a hug.
Right… so let me very clear here: I do not hug people I've just met.  My personal space is my personal space and I don't care if you are the Queen of England, Barack Obama or a guy I met online, I am not hugging you.
Awkward non- hug out of the way, Mike and I got to talking about him. He was in Cape Town on the tail end of a 20 day trip to South Africa which he'd won through his travel agency.In addition to being a tour guide for senior people, this Boston native was also a hockey referee.
This was his last night in the Mother City and he was keen to see more of its nightlife. Considering I was in tourism, I was happy to oblige.
When your Auntie C arrived 15 minutes later, she picked up that it was rather awkward and Gods bless her, came to my rescue with her usual awesome badgering of questions.
Fast forward through Gloria arriving, us barhopping all over town, including a stop at our local Mitchell's.
We had a great time, at least I thought so, talking about travels, books, Women's Day, Boston, New York etc when…
Mike would randomly scratch my shoulder.
Your Auntie Lee says he was flirting and announcing his interest in me but if so, what a weird f***ing way to do it!
Look, I was not unfamiliar with a straight, hot blooded man displaying his intentions – from Americans who ran their hands down my back on nights out to Monroe and the work colleague who gave me extra long, hard, body consuming hugs, I knew when I was being hit on (occassionally!).
This chicken scratching shit was not it.
I flashed an awkward smile and carried on talking. There was a brief awkward pause when he tried to short change the others on the bill after but we merrily moved on from that and to our next stop, The Dubliner in Long Street.
Here is where things went downhill.
While we danced awkwardly, had another drink and hung out, Mike scratched my shoulder again.
This time I was not ok with it… as I have mentioned before, I do not like people, especially men touching me if I haven't asked for it. Maybe this was an American thing like the other doos from Philadelphia who couldn't keep his hands to himself but just because I was on a date with him, didn't mean he had the right to grope me.
I gently moved away from him and tried talking over the music to him instead.
Two songs later, Mike turns emo on me with:
"I don't think I am what you were expecting"
Me,totally confused at why this man was turning girly on me: "What? Why? We're just hanging out, aren't we?"
He excused himself  to go to the loo and the next thing I know, he's walking out of the door of the bar, never to return again.
No goodbye, no "I'm sorry, this isn't working out", just a straight walk out!
Your Uncle T says it was a classic case of Mike thinking he was going to get laid on his last night in Cape Town and it clearly wasn't going to happen so he bailed.
Cool – I can understand the wanting to leave part but for f***'s sake, have the goddamn decency to at least say goodbye instead of hightailing it like a petulant child!
Could I have handled this better? Probably. I know I am awkward AF and a little shy andI probably should have spent more time talking to this guy online before meeting him. That still doesn't excuse him having a bitch fit and running away, though.
It was a blessing in disguise because after Mike the coward left, Glo, Cynthia and I tore shit up at the pub and danced the night away with so many other people which lead to many more cool stories.
I was young,single and free, out with my amazing friends and having the time of my life: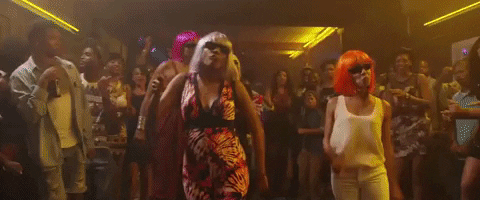 F*** it! NEXT!